Build your own djembe!

Drum Making Workshop:
African Drumming are hosting our own drum making workshop, spend the day learning the process from our experienced drum maker Bruno (Ginga)
Saturday April 21st – 11:00am – 3:00pm – Drum Making workshop @ African Drumming HQ
Building your own drum is a highly satisfying hands-on experience that connects you to your drum for life
Join our experienced drum maker Bruno for a hands-on journey into drum building and walk away with your own brand new African Drum – personally customised with all your favourite features
Drum Making is a two-stage process and requires approximately 3hrs on the first day and 2 hrs on a separate day.
We just need to make an appointment with you that suits our drum makers schedule. He is pretty flexible with times.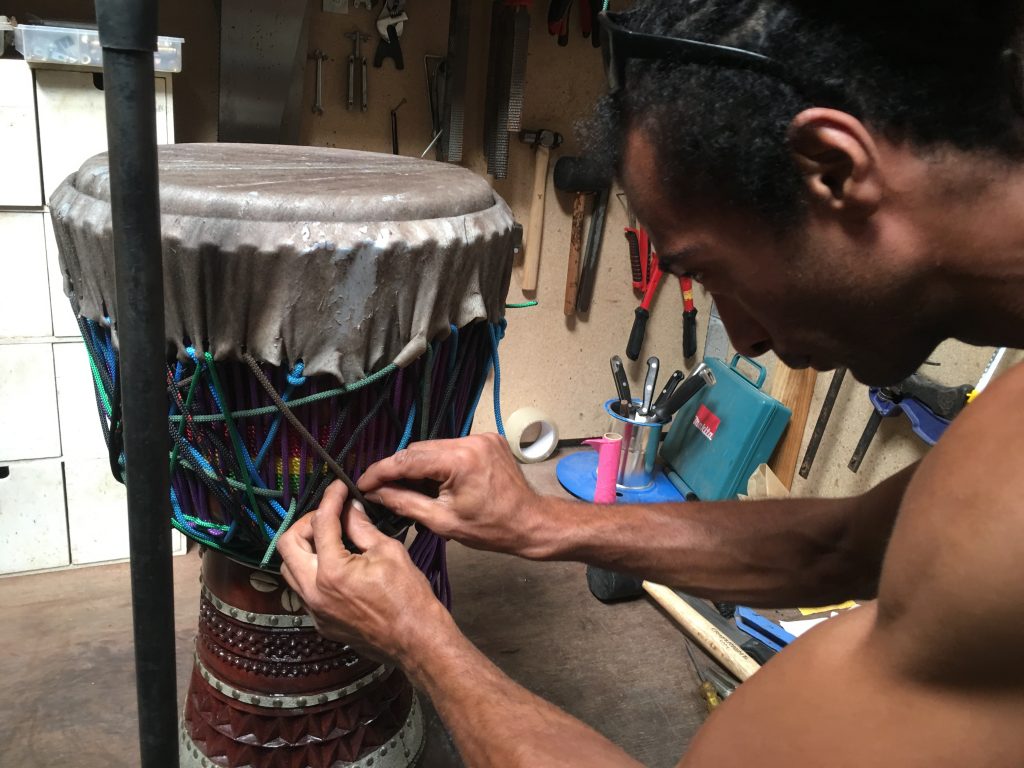 How does it work?
On arrival at AD Head-quarters you can check out our HUGE range of African djembes on the shop floor
This will give you some examples of all the different djembe options we have. You can road test a few and hone in on what you do and don't like in a djembe.
From here we head into the warehouse and start looking at djembe shells.
We will guide you through all the different options from entry level djembes right through to our Master Series hardwood range
Once you have chosen a shell we will guide you through the process of making the drum.
Day 1 (around 3hrs)
– Skin selection – VERY important in terms of the sound the drum will end up having. We have several options including goat, calf and cow from Australia, West Africa and Indo
We need to get the skin in water nice and early so it has time to soak through and become malleable before we start skinning the drum
– Shell preparation including levelling and sanding the bearing edges if required
– Oiling the shell – choose what kind of finish you'd like on the exterior. Glossy or matt?
– Choosing the fabric we wrap the rings with – we have a HUGE selection of colourful African fabrics.
– Choose your rope colour – choose from over 10 colour varieties of solid or mixed tones
– We then wrap the rings with fabric and with loops in preparation for the vertical rope work.
– Once all the ring rope work is done we can get to work skinning the drum.
Once the skin is put on the drum (wet) it will take a few days to dry
Day 2 (around 2hrs)
– The second stage takes place once the skin is dry, when we will "crank" the drum and have it ready for playing
-You'll learn all the tricks of the trade to get the right amount of tension into the skin and have your drum sounding great as you walk out the door
Pricing
It's simple – you pay the retail price of the drum as it would be on the showroom floor
Prices are based on retail prices for our full range of African Djembes
We're very flexible in arranging times to fit your schedule
…………………………………………………………………………………………………………………………………………………………………………………………………………………
The Process
First Session (3 – 4 hours)
Select your shell
Choose the skin based on the sound you want
Choose the rope and accent material
Sand, oil and the perfect the shell to your specifications
Rope up and skin the drum, add a handle
Leave to dry and settle
Second Session (1 hour)
Tune the drum & get a quick debrief about care and tuning
Take home and play!
…………………………………………………………………………………………………………………………………………………………………………………………………………………
Rates
We only charge for the cost of the materials – your time with the drum maker is free!  The cost of the drum is largely determined by your choice of shell. Our medium density shells come from Ghana and hardwood shells come from Burkina Faso, Guinea, Ivory Coast and Mali
Shell Type                                     Price Range
12″ – 14″   Medium density                       $350 – $450
12″ – 13″   Hardwoods                               $500 – $650
…………………………………………………………………………………………………………………………………………………………………………………………………………………
Bookings and Enquiries
p: 03 9525 3073
e: [email protected]